Track# 10 : 10 Ways To Be Happy
From album: 3 Steps and a Bounce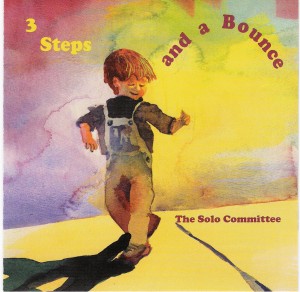 10 Ways to be Happy
Words and music by Sue Loomis
Arranged by The Solo Committee
Chorus
Ten ways to be happy
Ten ways to be happy
Verse 1
Moses got the commandments on a mountain
But if he came today,
Brother Moses might be on your TV
And here's what he would say:
God gives us,
Chorus
Verse 2
Have no other gods but me;
It's the first way to be happy.
Chorus
Verse 3
Don't worship any images.
Don't make things your god.
God won't share you he knows you're His.
He'll show you all his love.
Chorus
Verse 4
Love God's name and use it carefully;
Third way to be happy.
Chorus
Verse 5
Make a time that's pure and quiet;
A time when you can pray.
Do it every week on Sunday.
Do it every day.
Chorus
Verse 6
Love your mother, Love your father
It's the fifth way to be happy
Chorus
Verse 7
Remember these, the last five are easy:
Don't kill, don't steal, don't lie.
Be true and faithful to the one you love.
Don't want or covet what you see with your eyes.
Chorus
Verse 8
Love everyone and treat them right.
Love God with all your might.
Chorus