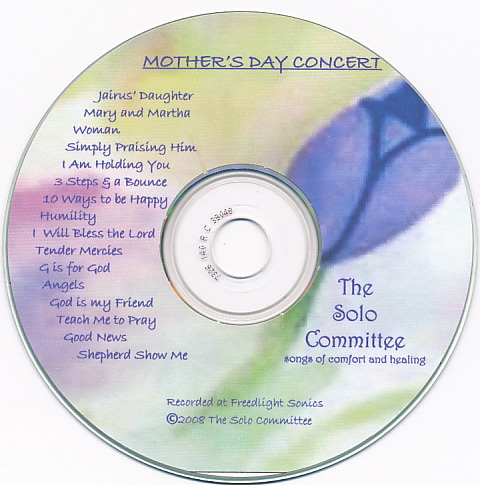 The Solo Committee traveled to Virginia and New Jersey in May 2008 to do a Mother's Day concert.  As we were preparing for this trip, we thought it would be fun to put together a "live" recording of the concert.  Since we didn't really didn't have the proper technical setup to do a real live recording, we just took our concert into the recording studio and played the concert complete with song introductions.
There are 16 songs on this album with selections from all of our CDs.
We have decided to make this album available free of charge.  While we don't have physical CDs, the album may be downloaded here and you may then tranfers to a CD, iPod, or other audio device; or  you may simply listen to the songs directly from this page.
You may download the entire album by clicking here or songs may be downloaded individually.  Most browsers will allow you to right click on the the "Listen to Track" link, and then you choose the option that saves or downloads the link to a file on your computer.  The full package download is a 90 megabyte zip file.
Album Price: Free download